Adjust Image For Tiles
Tile Mural Dimensions –
for a kitchen backsplash, bathroom tile mural, shower wall mural or other location may be limited in size. Your area available for the custom tile mural may require us to adjust the original ratio of width and height by 'cropping.'
Here is an example: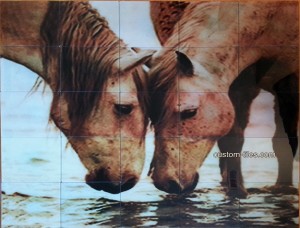 The desired image selected for the mural happens to be 'landscape' (wider than it is tall).
If customer specifies that the mural size is to be square, then the image must be cropped to fit the customer's installation dimensions. In this case, we would crop slightly from the right side.
Whenever it is necessary to crop an image for your custom tile mural, we send a preview picture to you by email. You get to see what portion of the image is captured on the tile mural so that you may approve or have us re-edit the image.
Adding a Border
It is also possible for us to add a border to the image. This is another way to adjust image for tiles' installation area without sacrificing any portion of the image.