Plan A Custom Tile Mural
It takes a combination of imagination and simple mathematics to plan a custom tile mural. It is well worth the effort – the tile mural will be durable and last for many, many years. There a few easy steps: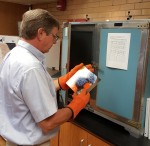 Select your image for the custom tiles

Send us a photograph or the artwork, (we scan and return the original unchanged).
-OR-
Send us your digital file (high resolution) or download from an online photo/fine art provider (e.g., pro.corbis.com, gettyimages.com, arc-store.com, www.photos.com/en/search.) Instructions for Sending Images.

Determine the size of the tiles and tile mural area available for the project (contact us for help). This is where we can be very helpful in advising on the best sizes for your custom tile mural, based on your artwork or image from Step 1. Measure the width and height of the area available. You may fill the area completely with the custom tile mural or select a custom mural size and surround it with standard 'field' tile. Additional tips are below*. We cannot warranty tiles which are cut – you should center the mural and surround it with field tile or a border tile.
See our Wall, Floor, or Outdoor Tiles (wall & floor) as a guide for your tile selection and cost estimate. We will confirm the information personally for accuracy. Secure credit card ordering and tracking is available through our PayPal account. Orders are placed online by selecting "Buy Now" under the tile size/type you desire. You are not required to use PayPal or be a PayPal member to use your credit card.Typical turn around time is 2 weeks from receipt of order and image. For time-critical inquiries and any type of assistance in your planning, call 434-660-7170.
*Additional tips on planning:
Production of unique tile murals based on the customer's image selection is our specialty.
All images must 'bleed' over the edges of the tile mural during printing, resulting in a loss of 1/8 to 1/4 inch of the image on each side of the whole image (not a loss on each tile). We enlarge or reduce the size of the image you provide to conform to the dimensions of the mural size you select.
After determining the approximate size of your mural, select a tile size (4.25, 6, or 8 inches) which evenly divides into that size. This will avoid cutting the tiles to fit the mural area.
If the mural size you select does not have the same width/height ratio as the image you select, we must crop the image to match. For example, if you want a mural twice as tall as it is wide but the image you select is square, some of the image's width will be cropped out. Here is an example: Crop Image to Fit