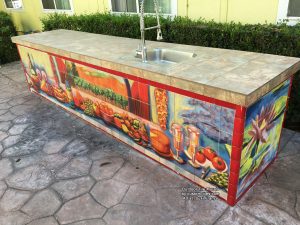 Outdoor Kitchen Tile Ideas
Designing your own outdoor kitchen? Want to get inspired for the future? We've got outdoor tile ideas for a customized tile mural. Custom Tiles' outdoor kitchen tile withstands the harsh demands of wear and tear from weather.
The above pictured outdoor serving island has tile murals on three sides. The artist, Susi Franco, sent us digital images of her colorful paintings. We manipulated the graphics for appropriate sizing. Also, we melded three sections of a triptych. Professional Photoshop techniques resulted in the lovely, wide tile mural in the long section. So, – put our services to work for you!
Easily washable and cleanser resistant, exterior grade tiles display your personal choice of decoration. High resolution digitally printed images exhibit excellent durability. Furthermore, the scratch and chemical resistance lasts for decades.
Your grill or BBQ area will be unique and personalized. Upload your selection of art or photography to display on your custom printed outdoor tile mural.