Custom Printed High-Traffic Durable Platform Tiles for railway station safety and information messages.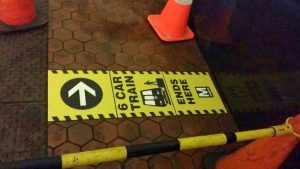 Passenger railroad station tiles with your transit line's logo and custom graphics are indoor and outdoor wear resistant, fade resistant, and graffiti resistant. The porcelain floor tile is dimensionally stable and tough. Also, they're available in smooth and skid-resistant texture finishes for ramps and wet areas.
Practical
Use platform tiles to indicate door locations, edge safety messages (Beware of or Mind the Gap), and train length. See the '6 Car Train Ends Here' tile graphic.
Platform Tiles Durability
The custom print has completely fade resistant (UV stable) pigments which are kiln fired and fused into the abrasion resistant tile glaze. Frost resistance allows use in all climates and environments. The world's toughest floor tile glazes render protection against high foot traffic and luggage. Therefore, decals cannot compare with this system.
Contact us for more details – link to our Request for Quotation.
So it's easy to have your transit company's logo and unique message custom decorated onto the rail station tiles. Photoshop and Illustrator image files will be processed through the most advanced ceramic printing systems. You can take advantage of the low maintenance and long life these tiles offer. Give us a call to appreciate our personal service – 434-660-7170.