Custom Floor Tile - Residential, Commercial, Outdoor Pavement & Platform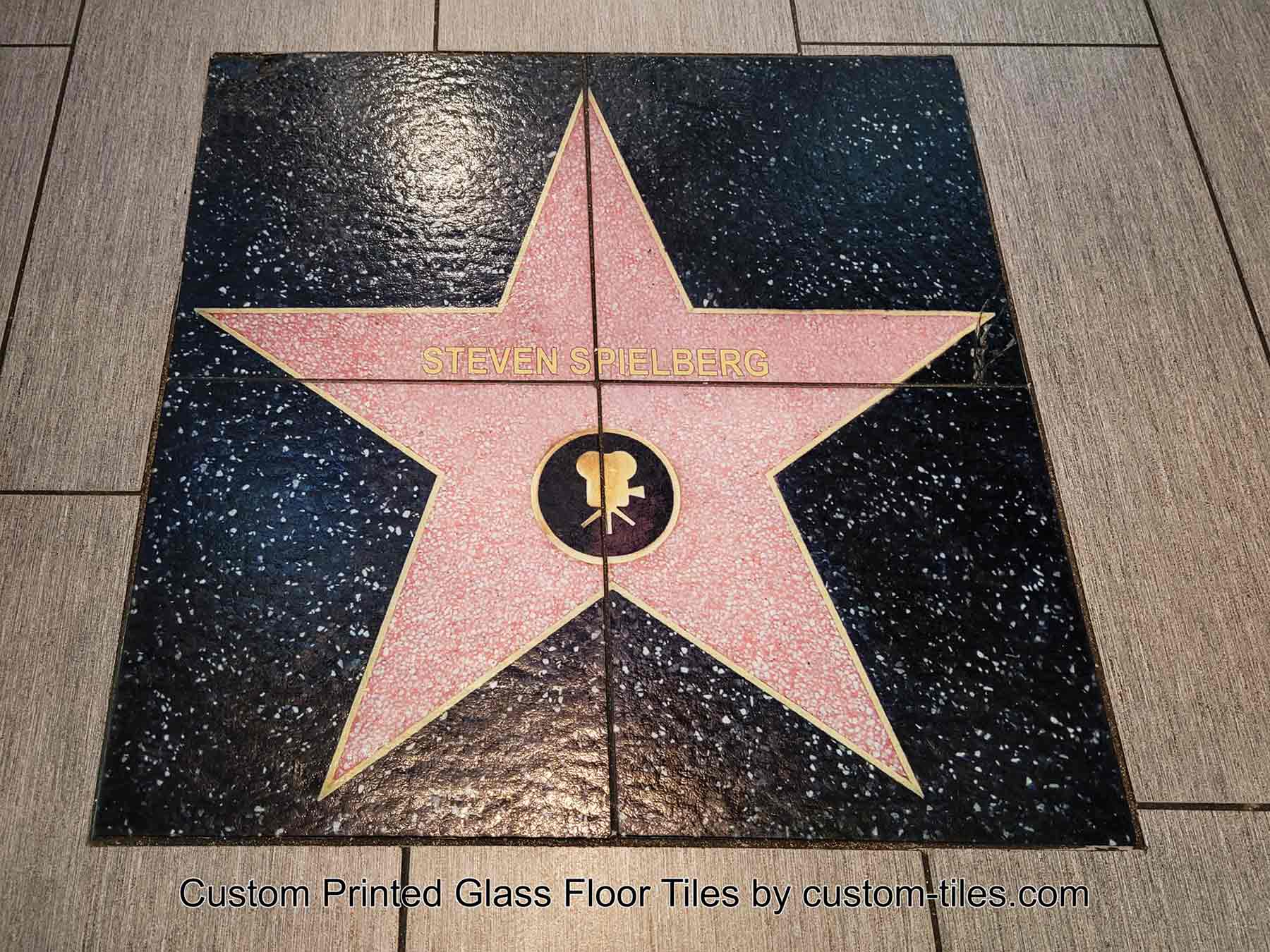 Made to order designs on floor tile are available for high traffic areas. The decorated tiles are tough enough for transit platforms and outdoor sidewalks. 
We offer a variety of tile compositions and print methods. Tell us your project details and learn the best custom flooring tile solutions. Link to our Request for Quotation or email us. For the most rapid turn-around on small, interior projects, see below.
Your artwork, text, or logo can be an attractive design element for your hotel, restaurant, home, or facility.
Installing Custom Floor Tile
Interior Customized Floor Tile and Medallions
Tile Council of North America testing lab results:
ASTM C1028: Static Coefficient of Friction – Dry =.86 Wet =.52 (meets OSHA recommendations). The Building Code for the City of Los Angeles, California (USA) requires that level surfaces have a COF of not less than 0.6 and ramps have no less than 0.8 – these tiles exceed those requirements.
ASTM C648: Average breaking strength is 1931 lbf. Compare to approximately 250 pounds for regular ceramic tile. (https://www.thespruce.com/reasons-why-tile-floor-is-cracked-1822645)
ASTM C373: Water absorption rate of .37% = impervious
Digital glass floor tiles withstand chemicals such as paint removers , citrus-based cleaners, and foaming oven cleansers, providing graffiti resistance for walls and floors.
ASTM C650: Resistance to Chemical Substances: Not affected by the following: Acetic Acid 3% & 10% Ammonium Chloride, 100 g/L Citric Acid Solution, 30 g/L & 100g/L Lactic Acid, 5% Phosphoric Acid, 10% Hydrochloric Acid Solution, 3% & 18% Sulfamic Acid, 3% & 10% (Becomes sulfuric acid when mixed with water) Swimming Pool Chemicals (Sodium Hypochlorite Solution) 20mg/L Potassium Hydroxide, 30 g/L & 100 g/L
ASTM C485: Warpage of Tile: Edge warpage: -.02%, Diagonal Warpage: 0.00%
ASTM C499: Facial dimensions and thickness of tile – Average difference of 0.020 inches
ASTM C502: Wedging of Tile – Average percent wedging was 0.03%
ASTM C1026: Tiles showed no evidence of damage after completing 15 freeze/thaw cycles.
Custom Floor Tile Restriction: Not for installation in direct sunlight! For complete fade resistance: use our outdoor tile.